Custom Sprayers: What You Should Know
Customizing a sprayer is simple and easy when you order from Sprayer Depot. Many people assume that anything "custom-built" is unaffordable or out of reach. Or that customizations equal complicated, and not worth the hassle. When it comes to sprayers... that is simply not true. 
We'll debunk three myths about custom sprayers and review some of the more common modifications you might consider with your next sprayer purchase.
Myth #1

:

Custom sprayers are expensive so only big companies can afford the price tag.
Fact

:

It may surprise you that some of the common modifications that our customers request are relatively inexpensive. These modifications help fine-tune the sprayer to the user's exact use case, making it a better spend in the long run, and ultimately a more efficient and effective tool.
Myth #2

: Custom sprayers require major modifications.
Fact

: Whether you require a dozen modifications or simply need something like a bigger hose reel or a low-profile tank, no customization is too big or too small. We customized sprayers in over 300 different ways in 2018. Even with very specific customizations, our team works quickly so your sprayer will arrive on your doorstep before you know it!
Myth #3

: Custom sprayers are harder than hen's teeth to come by.
Fact

: In 2018 we built more than 2,700 custom sprayers at Sprayer Depot. Acquiring a sprayer with just the right features is just a click or call away. We've even added a special feature on our website that allows users to customize their own sprayer model right on the page - evaluate different combinations, check pricing, and get a feel for the variety of components available.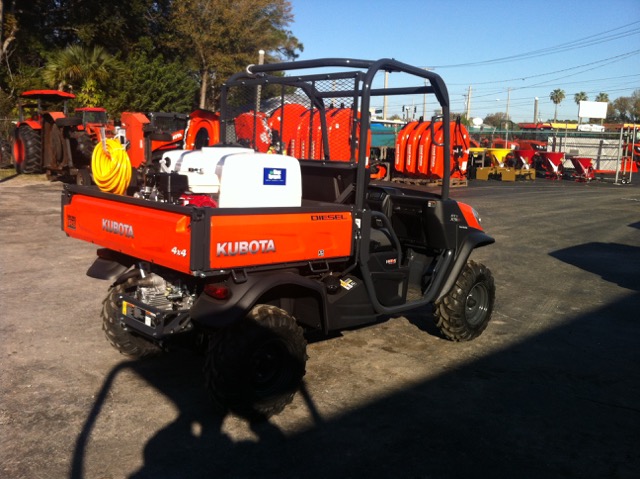 Custom Built Sprayer Examples:
---
When it comes to sprayer modifications, there are some common requests that customers tend to find useful. Some of the more popular requests and options include:
Option: Most of the sprayers we carry come standard with 150 feet of hose, but it's an easy fix to add more hose to the hose reel if that's necessary for your line of work.
Option: You want a different pump than the one that comes on the sprayer? Easy peasy! It's also possible to change the gas engine to an electric start engine.
Option: The tank is too big/too small/too high/too low. Not to fear Goldilocks, changing the tank size is an easy fix. We offer a variety of poly & fiberglass tanks that will work for your needs and a number of frames that can be modified for that purpose.
We've made some of our most requested modifications available as stock sprayers that you can easily shop on our website in the QuickShip section. 
Subscribe to the Latest News from Sprayer Depot
Receive the latest blog posts, product announcements & company news direct to your inbox:
---
New Website Feature: Build Your Kings Sprayer
Build Your Own Customized Kings Sprayer on the Sprayer Depot Website
We've launched a new feature that allows you to customize sprayer models right from the website! Go ahead - play around with an almost limitless number of configurations. More models and components coming soon!
---
Sprayer Depot is committed to serving you!
Shop our interactive online catalog
Order at

 

sprayerdepot.com, call

 

1-800-228-0905, or email sales@sprayerdepot.com
Online Chat available at

 

sprayerdepot.com
Have a question? Email info@sprayerdepot.com, or call our knowledgable Customer Service Technicians at 1-800-228-0905
Orders over $100 enjoy FREE Shipping (some exclusions apply), and are shipped out the same day when ordered by 5pm (ET) 
Sprayers ship for a flat rate to the 48 contiguous states
QuickShip Kings Sprayers are ready to ship same day when ordered by 12 noon (ET)
Central Florida Showroom open Monday through Friday from 8am to 5pm at

 

7800 N. Orange Blossom Trail, Orlando 
Orders are shipped from distribution centers in Orlando, Florida, Salt Lake City, Utah, Kansas City, Missouri and Fairless Hills, Pennsylvania for fast shipping
Want to hear what customers say about Sprayer Depot? Visit our Customer Reviews page.
Sprayer Depot specializes in spray equipment, parts and accessories for commercial use. Agriculture, horticulture, lawn & landscaping, and pest control industries, as well as theme parks/resorts/hotels, and golf & recreational facilities shop at Sprayer Depot. We ship worldwide. Kings Sprayers are proudly made in America at the Sprayer Depot headquarters in Orlando, Florida.
We appreciate your business, and look forward to assisting you again in the near future. Happy Spraying!
---