Hannay N716-14-16-8C Spring Rewind
Make rewinding hoses simpler with Hannay's N716-14-16-8C Spring Rewind. Usable with hoses from 1/4" ID to 1/2" ID and up to 25 feet, it is simple to keep even long lengths of hose organized and easy to deploy in future use. The 4-way roller assembly makes it even more convenient to use and the mounting base makes it versatile.
Manufacturer Description:
Built to order in the Hannay factory located in New York. Lightweight, compact reels designed for many different industries and applications. Designed to spec and built of the highest quality materials, our reels stand up to the most demanding conditions of any industry. We offer thousands of hose and cable reels that help improve efficiency, productivity, and safety in your operation by keeping hoses and cables organized and off the floor. The heavy-duty design and construction of our reels ensure that they outlast the competition and save you money. And bolted-on components and conveniently located swivel joints make servicing our reels quick and trouble-free. Every reel we build is created for the industry in which it will be used, from processing to welding to maintenance and more never retrofitted to the job. That means you can trust Hannay reels to be durable and dependable for years to come.
Features:
Rewind: Spring
Narrow frame and compact mounting base
Non-sparking ratchet assembly
Declutching arbor to prevent damage from reverse winding
Construction: Carbon steel, e-coated and then finished with a modified high performance acrylic enamel paint (metallic graphite color)
Distance between discs: 4"
Standard inlet: 90° ball bearing swivel joint, 1/2" female NPT threads
Standard outlet: 1/2" female NPT threads
4-way roller assembly included
Standard pressures to 3000 psi (207 bar), available up to 10,000 psi (690 bar) must specify <
Customer Reviews
Write a Review
Ask a Question
Heavy duty reel
Top quality in the reel industry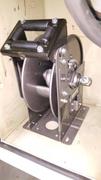 Thanks for your review - hope it does a great job for you!