As we recently wrote in our post about Overcoming the Challenges of Tall Tree Spraying, it takes the right equipment to achieve the vertical height necessary for spraying into tall trees. Because of this, the typical sprayer can't be made to "just work" for the job. There are four key areas of the sprayer that need to be sized correctly to achieve vertical spray heights: tank size, pump & engine, spray hose ID, and the spray gun. 
When it comes to selecting the spray gun, you need something capable of outputting the necessary pressure to ensure uniform coverage. There are many high quality professional spray guns designed specifically for spraying tall trees. These guns enable you to prevent or combat pests and disease without leaving the ground.
Tall Tree Spraying Basics
Your choice of chemical treatment will vary depending upon the issue you are addressing such as pest infestations or disease. Place the chemical treatment into the container of the high-pressure sprayer, following manufacturer directions.
Spray guns give you control and flexibility so you have a wide range of motion. Hold your spray gun in such a way that you can spray the tree at an angle and avoid spraying chemical on yourself. Don't forget your Personal Protective Equipment (PPE), whenever you use chemicals. It is also advisable to cover lower vegetation with plastic sheeting to protect it from any damage from the chemical treatment.
When you start the sprayer, you will be able to control the flow of the spray with your spray gun. Position the gun and adjust the speed so you can send a focused stream into the tree branches to coat leaves and branches with a fine mist of the  chemical. As you spray the tree, walk around so that you can reach branches and leaves from all angles for proper coverage.
Have questions about your specific application? Let us know the type of tall trees you are spraying and what chemicals you are using and we can help you select the best equipment for the job!
Best-Selling Tall Tree Spray Guns
Three of our most popular and best-selling tall tree spray guns are included below. We carry a wide variety of spray guns, and can make suggestions for many types of spraying beyond tall trees.
FMC John Bean 785 Spray Gun

Max Flow: 48 GPM
Max Pressure: 800 psi
List price: $499.00
Our price: $394.00
This spray gun is adjustable from a fine spray mist to a solid stream by a mere twist of the wrist! It also includes an easy latching trigger allowing it to be locked in the open position for continuous spray. An assortment of nozzle discs are included with purchase.

Udor Long Range Spray Gun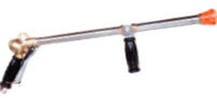 Max Flow: 30 GPM
Max Pressure: 850 psi
List price: $349.48
Our price: $255.04
This Udor high performance spray gun with a 21" barrel features a 12 mm internal tubing with stream straightener & adjustable spray pattern from straight stream to cone mist.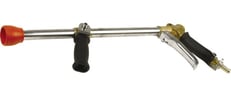 Max Flow: 25 GPM
Max Pressure: 850 psi
List price: $242.50
Our price: $193.56
This tall tree spray gun features a 17" barrel, 10 mm internal tubing & adjustable spray pattern from straight stream to cone mist. 
---
New Website Feature: Build Your Kings Sprayer
Build Your Own Customized Kings Sprayer on the Sprayer Depot Website
We've launched a new feature that allows you to customize sprayer models right from the website! Go ahead - play around with an almost limitless number of configurations. More models and components coming soon!
---
Sprayer Depot is committed to serving you!
Sprayer Depot specializes in spray equipment, parts and accessories for commercial use. Agriculture, horticulture, lawn & landscaping, and pest control industries, as well as theme parks/resorts/hotels, and golf & recreational facilities shop at Sprayer Depot. Kings Sprayers are proudly made in America at the Sprayer Depot headquarters in Orlando, Florida.
We appreciate your business, and look forward to assisting you again in the near future. Happy Spraying!
---