Get the Height You Need for Spraying Tall Trees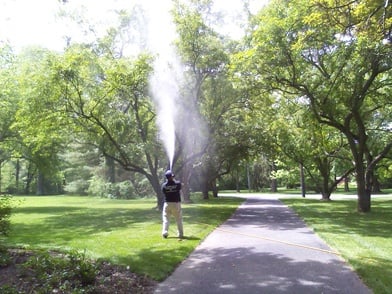 Spraying tall trees can be tricky business. The need to reach extreme heights can present challenges for spray applicators. At Sprayer Depot, we're always touting the importance of having the right equipment for the job, and this is especially true in tall tree spraying. The "one size fits all" approach does not apply!
Why Can't I Just Make Do With The Sprayer I Already Have?
We get calls from customers who want to use their existing sprayer and simply purchase a new spray gun to spray to further heights.  Unfortunately, this is not how it works: the whole anatomy of the system needs to be adequate and designed for tall tree spraying.  If you don't use the right tank, pump, spray hose or spray gun you won't hit the desired distance. 
4 Essential Sprayer Parts for Tall Tree Spraying
There are 4 key areas or parts of the sprayer that are essential for achieving vertical and horizontal distance. Selecting the right parts for these 4 important areas is key to overcoming the challenges of tall tree spraying. 
1. Tank Size for Tall Tree Spraying
Tank size is very important for accomplishing longer spray distances. Without enough volume in the tank, the physics can't work. You will want a tank size of at least 200 gallons, but bigger is definitely better in this situation.
Rule of Thumb: Select a tank size that is 5 to 6 times the flow rate of the pump, otherwise you will experience cavitation (air in the lines).
2. Pump and Engine
Long distances will require a gas powered engine and a strong pump. Your best bet is a diaphragm pump with a high GPM. 
Rule of Thumb: You need both flow and pressure to reach the maximum height capacity of your system.  Medium to high pressure diaphragm pumps that have good flow and max pressures up to 500-700 psi are ideal.  Centrifugal pumps with high flow and low pressure normally won't do the trick.
3. Spray Hose ID
With all the pressure being pushed through the pump and into the hose, it's extremely important to have a hose that can handle the load. High pressure ag hose is a must!
Rule of Thumb: Size the ID (Internal Diameter) of the hose to match the pump's flow rate for optimum distance.  For example, don't use a 3/8" ID hose for a 20 GPM pump - this will defeat the purpose of the higher flow rate. A 20 GPM pump is best paired with a 1/2" or 3/4" internal diameter. The 3/4" ID will give you an extra 5-10'.
4. Spray Gun
The last piece is the gun. Having a spray gun that's specifically designed for long range, high pressure ensures you will get to the tops of tall trees. 
Rule of Thumb: Check the internal tubing and spray tip you plan to use.  Most guns have many options for the orifice size of the spray tip which will determine the spray distance.
Read more about tall tree spray guns.
Following these rules of thumb will help get the spray distance you're looking for. If you need help selecting components to build your own tall tree spraying rig, let us know. We're happy to help get you on just the right track. If you'd rather purchase a complete unit designed and built specifically for tall tree spraying, we offer the "Cadillac" of tall tree sprayers - our Kings Sprayers 500 Gallon Highway Ready Trailer Sprayer will blast the tops of 80' trees.