Contributed by Guest Author: Mark Techler,  Factory Representative - Hypro & SHURflo
Sprayers with positive displacement pumps need some way to bypass the flow of liquid when the gun or boom is shut off. Let's compare a typical relief valve, like a TeeJet S6815 series valve, to a commonly used control unit, like the Hypro GS40GI, which includes a relief valve and much more.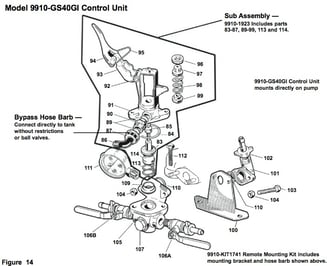 1. The control unit includes a pressure gauge. Most spraying jobs require a particular pressure and it is convenient to have a gauge next to the controls.

2. The control unit includes separate outlets for a gun (or boom) and agitation. These outlets include ball valves for shut-off or for fine tuning the flow. A typical relief valve has only an inlet and a bypass port.

3. The control unit has a pressure adjustment and release lever that can quickly change the bypass pressure to one of three broad settings or to zero psi. A fine tuning knob is also included. A typical relief valve has only a fine tuning.

4. The control unit has all these features in a compact package that mounts on the pump. A typical relief valve needs many fittings, hoses, ball valves, a gauge, and more labor to accomplish the same functions.

5. The most valuable difference is that a control unit has a spring under the relief valve poppet that unseats the poppet when the release lever is all the way up. A typical relief valve has a main spring that pushes the ball onto the seat so that, when the sprayer is not being used, chemical accumulates and causes the ball to stick to the seat over time. When the sprayer is started again with the gun or boom off, the additional bypass pressure required to unseat the sticky ball from the seat causes a pressure spike in the system that can damage the pump. When the release lever on a control unit is moved to the open position, the poppet cannot touch the seat and cannot stick, so there is no pressure spike on the next startup. Tip: always move the release lever to the all-the-way-up position at the end of the day.

Control units, typically found on diaphragm pumps, are well worth the cost because they provide more accurate spraying and longer system life.
Subscribe to the Latest News from Sprayer Depot
Receive the latest blog posts, product announcements & company news direct to your inbox:
---
Expanded Product Line: Kings Sprayers Modular Sprayers
Use the Space You Have More Efficiently!
Kings Sprayers has expanded offerings for modular sprayers, which aren't limited by one large frame, but instead components are placed on individual frames. With an unlimited number of possibilities, configurations and spray applications, flexibility is the name of the game with modular sprayers!
---
Sprayer Depot is committed to serving you!
Shop our interactive online catalog
Order at

 

sprayerdepot.com, call

 

1-800-228-0905, or email sales@sprayerdepot.com
Online Chat available at

 

sprayerdepot.com
Have a question? Email info@sprayerdepot.com, or call our knowledgable Customer Service Technicians at 1-800-228-0905
Orders over $100 enjoy FREE Shipping (some exclusions apply), and are shipped out the same day when ordered by 5pm (ET) 
Sprayers ship for a flat rate to the 48 contiguous states
QuickShip Kings Sprayers are ready to ship same day when ordered by 12 noon (ET)
Central Florida Showroom open Monday through Friday from 8am to 5pm at

 

7800 N. Orange Blossom Trail, Orlando 
Orders are shipped from distribution centers in Orlando, Florida, Salt Lake City, Utah, Kansas City, Missouri and Fairless Hills, Pennsylvania for fast shipping
Want to hear what customers say about Sprayer Depot? Visit our Customer Reviews page.
Sprayer Depot specializes in spray equipment, parts and accessories for commercial use. Agriculture, horticulture, lawn & landscaping, and pest control industries, as well as theme parks/resorts/hotels, and golf & recreational facilities shop at Sprayer Depot. We ship worldwide. Kings Sprayers are proudly made in America at the Sprayer Depot headquarters in Orlando, Florida.
We appreciate your business, and look forward to assisting you again in the near future. Happy Spraying!
---