As one of the nation's largest suppliers of professional spray equipment, we work hard to always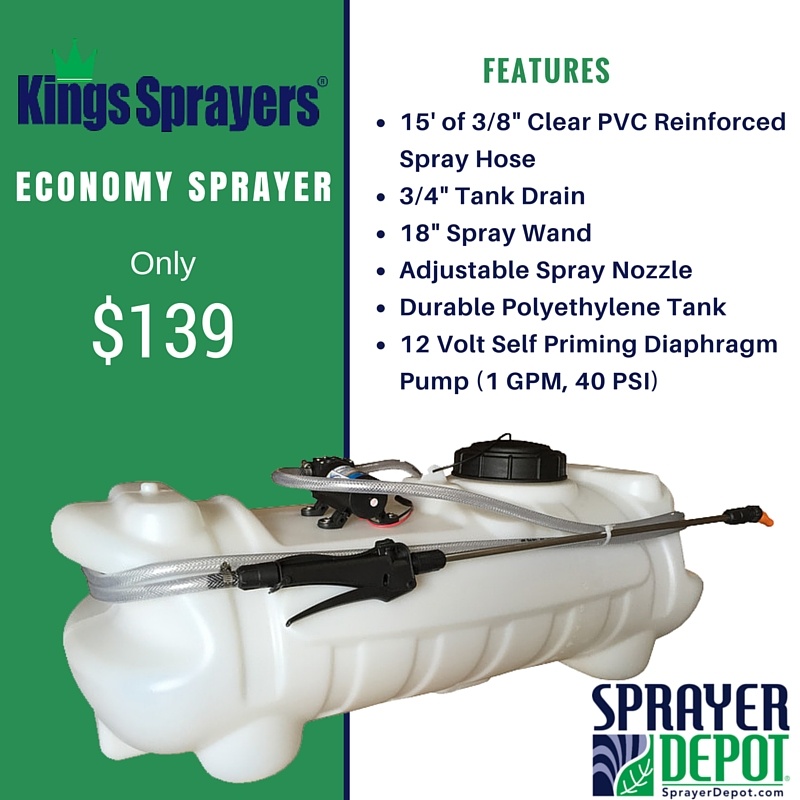 keep up with customer demand. Lately, it seems we've been getting a number of requests for a small capacity sprayer that doesn't need to be pumped by hand like a backpack or handheld sprayer. We are excited to announce the latest addition to our Kings Sprayers product line: the 15 Gallon Economy Spot Sprayer. This sprayer is great for weed control treatments and ideal for garden and backyard use.
As you may know, we manufacture our own brand of commercial sprayers, Kings Sprayers®, right here in our Orlando headquarters. With the addition of this 15 Gallon Economy Spot Sprayer, there are currently 84 sprayer models marketed under the Kings Sprayers brand.
"We discovered a need for a less expensive sprayer option for consumers who do not spray frequently." stated Brandon Grossman, sales manager at Sprayer Depot. "Our typical B2B customers invest in commercial equipment because they profit from it.  However, customers such as small garden sprayers and homeowners may only use the sprayer a few times a month. So, this product fills the need of that customer.  Instead of paying $300 for a sprayer, we now offer an option for less than half that amount!"
We occupy more than 23,000 square feet of commercial space at 7800 N Orange Blossom Trail, Orlando, FL 32810. Stop by for all your spray equipment needs or give us a call today. Learn more about us and the more than 30,000 products available for purchase online at SprayerDepot.com.