With the return of spring comes the return of some of our favorite things: sunshine, daffodils, warm breezes, and blue skies. Unfortunately for the North East, it can also mean the return of the dreaded gypsy moth.
According to the Boston Globe, "environmental officials are predicting widespread defoliation from gypsy moths again in 2017…[and] forest health specialists are advising people to hire certified arborists or someone licensed to apply… pesticides to bring the population back down to manageable levels."
About Gypsy Moths
It is one of the most damaging pests because it has the ability to defoliate over a million acres of trees in a single year. Gypsy moths get their name from their ability to stow away on moving objects; dispersal occurs when people transport gypsy moth eggs thousands of miles from infested areas on cars, firewood, household goods, and other personal possessions. They are also often transported on shipments of nursery stock.
It's the caterpillars that are particularly problematic to homeowners because only the caterpillar stage of the gypsy moth feeds. The caterpillars feed on more than 500 tree species but especially like oak and other hardwoods. They eat the leaves, and can completely strip trees of greenery. This causes the trees to become more vulnerable to damage. These damages then will potentially cause death to the tree if they're harmed repeatedly over a few years.
Fighting Gypsy Moths With the Right Spray Equipment
What do you do if you find these troublesome caterpillars? Pesticides may be the most effective method of reducing the number of larvae and protecting the foliage of trees. However, managing the gypsy moth can be a difficult task if you don't have the correct equipment because they tend to prefer trees that are taller than the typical pesticide sprayer can handle, with larva usually emerging in trees that are 45-90 feet tall.
The type of equipment needed for this range of tree height are the larger skid and trailer sprayers. For the tallest trees on the property you will need a large capacity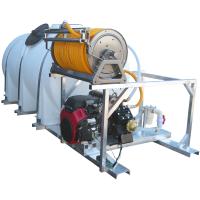 sprayer with a long-range. The Kings Sprayer 735 Gallon Skid Sprayer can handle spraying 75-80' in the air. It's great for tree-spraying and can be used in truck beds, utility vehicles, boats and trailers. A slightly more compact option would be a tow-behind two-wheeled sprayer like this one, but its compact size decreases its spray capacity and will only reach tree heights of about 65'. 
For smaller trees applying a pesticide using a smaller two-wheeled
sprayer like this 200 Gallon 2-Wheel Sprayer is your best bet. This sprayer can be easily towed behind a utility vehicle and can reach trees with heights in the range of 45'-50'.
The U.S. Department of Agriculture Forest Service has more information available about the impending descent of the gypsy moth upon our yards and trees, here.