Spring time is typically the beginning of the spraying season for many professional spray applicators, and the time when spray equipment is repaired or replaced in preparation for the busy season. At Sprayer Depot, our sprayer sales have reached an all time high, which means there are more Kings Sprayers in use than ever before. What makes this brand so popular and successful? "Quality and durability are the top two reasons," explains Brandon Grossman, sales manager at Sprayer Depot. Plus, Grossman adds, "There are so many models and sprayer styles, there's a sprayer for just about every spray application." From tall tree spraying to highway weed control, there's a Kings Sprayer to fill the need. This universal appeal has helped make Kings Sprayers one of the most popular sprayer brands on the market. 
Our Best-Selling Sprayer: The Kings Sprayers 100 Gallon Skid Sprayer
Skids are most popular frame type we sell, and the Kings Sprayers 100 Gallon Skid Sprayer (item # KS100P7027) is our top dog. The baseline Kings Sprayers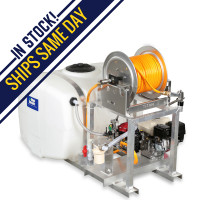 Skid Sprayer model (item # KS100P70) and its variations are popular with our customers because booms, boomless nozzles as well as longer lengths of hose or electric rewind hose reels can be easily added.
Popular in Landscaping & Other Industries
"This sprayer is a favorite among our lawn and landscape customers. Pest control, root injection, nursery and horticultural customers also use skid sprayers but L&L is tops!  With up to 9.5 gpm and a full pressure range of 0-580 you can spray lawns at low pressure, trees up to 40' at higher pressure and any application in between!" remarks Grossman.  The Greensmaster JD9 that comes standard with our Kings Sprayers Skid Sprayers is equipped with an adjustable nozzle (3-8 gpm) from the factory.  
What Makes This Sprayer So Great
"For lawn spraying and to create larger droplets, showerhead nozzles are available.  Simply remove the cap and adjustable tip and thread the showerhead onto the barrel, and decrease the pressure on the regulator.  When switching up to spray trees put the adjustable nozzle back on, crank up the pressure and fire away (Up to 40' vertically, 50' horizontally!), explains Grossman.
Then adding, "The pressure regulator with color coded gauge allows you to easily adjust the pressure rating depending on the application you are performing.  Another key feature of this sprayer is the jet agitation.  This is controlled by a ball valve on the regulator and shoots back in near the bottom of the tank to keep the chemical from settling.  Flow is very important for agitation (more so than pressure) and this pump will make that liquid in the tank swirl!  With great flow, pressure and the ability to perform multiple applications with one sprayer the KS100P7027 cannot be beat".
The Best Built Sprayer in the U.S.A
Every Kings Sprayer is built from the ground up, using only quality parts and components, like lightweight 6061 aircraft grade aluminum frames. Durable and well-built, Kings Sprayers are made to last. You can learn more about the benefits of 6061 aircraft grade aluminum frame sprayers in this previous blog post.