Landscaper's Corner: Insights and Updates for Landscape Professionals
Posted by Srayer Depot on
---
Fast, Efficient & Effective Estimates for Residential Lawn Fertilization Customers in 8 Minutes or Less
Contributed by Guest Blogger: Martin McGuane, owner and operator of McGuanes Landscaping and Tree Service, Enfield CT
Arriving at the Property
Running estimates can be time consuming for many industries. One advantage of the chemical lawn care business, in particular, is that our estimates can be done fast, efficiently and effectively. Your average residential lawn feeding estimate, using a standard measuring wheel, should only take 8 minutes.
When doing any estimate, it is very important for both you and your potential customer that it is accurate. The price quote should reflect the property's true square footage. The estimate should clearly describe which services you are providing and the cost of each for your proposed program. The penalty for an inaccurate estimate in this industry is greater than in others because you are basically married to the price, so get it right! An overly high estimate may cost you a potential customer, but a low estimate of a property's square footage could lose you money 5 to 6 times a year. 
---
Start Estimate as You Park
My estimate starts as soon as I arrive at the property. I park so that I can begin my first measurement (A) as soon as I get out of my truck, making my way to the front door to let the customer know that I am onsite (see figure 1).
Figure 1
I then reset my wheel and move to the right of the house to take my side measurement (B), resetting my wheel afterwards. Next I go to the backyard at which time I will measure the width of the right side and the length of the back at the same time (C + D). I will not reset my measuring wheel between these two measurements.
Once I finish measuring the length of the backyard, I will reset my wheel and then measure the width of the back (E). I then reset my measuring wheel again and measure the length of the left side of the house (F).
Finish in the Front
I then reset my wheel at any point while measuring the length of the front yard (G + H). Be sure to lift up your measuring wheel while going over the driveway so that you don't add the square footage of it to your estimate. I then plug in my measurements into a simple formula in order to determine the total square footage of the property (see figure 2).
Figure 2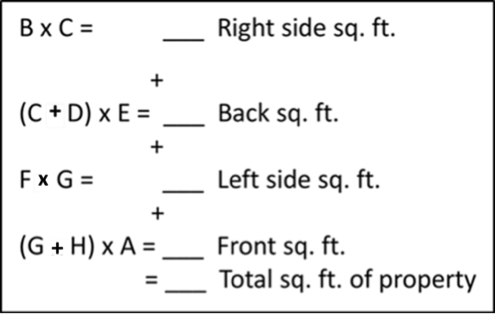 Look at the Turf
While taking these measurements you should also check the condition of the lawn to determine what other services need to be provided in addition to your chemical lawn care, such as:
Reseeding
Aeration
Irrigation
Fungus control
We are not there to simply measure the square footage of the property; we are there to improve the look and health of the turf. So make sure you are also looking for weeds, crabgrass, fungus problems, grub infestations, thatch build up and seeding needs. Ask yourself, "What do I need to do to make this lawn beautiful?" Take notes! When assessing a potential job for a customer, I'm mindful of the equipment required to get the job done right, what I need to purchase to do the job, and what suppliers I can count on to get me what I need, when I need it. Sprayer Depot is my #1 choice for spray equipment, sprayer parts & accessories. They get me what I need FAST. Plus, their Customer Service Technicians are knowledgeable and professional if I need help figuring out which part I need.
---
 About the Author:
Martin McGuane is the owner and operator of McGuanes Landscaping and Tree Service Inc, www.mcguanes.com which has been servicing Central Connecticut and Western Massachusetts since 1987. Martin is a 1981 graduate of the University of Connecticut's School of Agriculture. He is a Connecticut licensed arborist and has a Custom Ground Supervisor license in both Connecticut and Massachusetts. He also holds a CT Irrigation License.
---