Key Facts You Need to Know About National Pest Management Month
Posted by Srayer Depot on
April is National Pest Management Month
April is National Pest Management Month, a public observance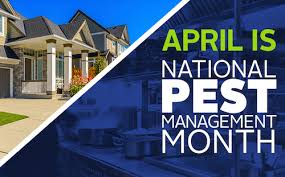 celebrated for nearly 40 years by the National Pest Management Association (NPMA) to acknowledge the role pest professionals play in protecting public health and property from significant pest threats.
"Every day, pest professionals work to protect people and properties from the potential diseases and damage caused by pests," said Cindy Mannes, vice president of public affairs at NPMA. "This industry commitment was brought to light in 2016 when the United States was introduced to a new disease – Zika virus. This, in addition to the countless other pest-related illnesses, such as Lyme disease, West Nile virus, Dengue fever, Hantavirus and more illustrates that pests are not just an unsightly nuisance, and proper pest control is necessary to reduce and protect against pest threats." Spring also happens to be the perfect time to for homeowners to pest-proof their homes and take proactive measures to protect their properties.
Pest Control Tips
For the second year in a row, NPMA has partnered with renowned home improvement expert, Bob Vila to offer tips and advice to homeowners on ways they can prepare their homes to defend against spring and summer pests such as termites, stinging insects, mosquitoes and ants. NPMA and Bob Vila offer the following home pest-proofing tips: 
Conduct an audit of the home's perimeter, taking note of any cracks, winter damage or termite mud tubes

 

Seal outside cracks, including entry points for utilities and pipes, with a silicone-based caulk

 

Replace weather-stripping and repair loose mortar around the foundation and windows

 

Eliminate sources of standing water around the house and clean clogged gutters

Remove rotted tree stumps, keep mulch at least 15 feet away from the home's foundation and trim bushes and branches away from the home

 

In case of an infestation, work with a licensed pest professional to properly identify the problem and determine the best treatment method
About the National Pest Management Association
The NPMA, a non-profit organization with more than 7,000 members was established in 1933 to support the pest management industry's commitment to the protection of public health, food and property from the diseases and dangers of common household pests. For more information, visit PestWorld.org, the official website of the National Pest Management Association (NPMA).