The Broward County Convention Center (BCC) in Ft. Lauderdale, FL set the stage this week for the annual TPIE: Tropical Plant Industry Exposition. Held Jan 18-20th,
this year's trade show showcased the latest trends in foliage, florals and tropicals from leading growers from around the world, spread out over 5 acres of space at the BCC. While the official numbers were not available at the time of this post, TPIE 2016 boasted more than 6,200 exhibitors and buyers from 43 U.S. states and 46 countries, and this year's show promised to even bigger.
2017 Booth Award Winners
Wow! There were many exhibit booths that blew it out of the park. Our friends at Costa Farms won Best in Show for their attention-grabbing booth design. Check out more pictures and a complete list of winners by clicking HERE.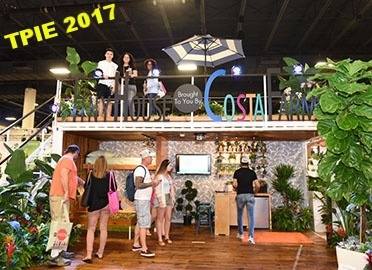 Featured: Kings Sprayers 4-Wheel Sprayer
Even though Sprayer Depot's booth didn't win any awards this year (our fingers are crossed for the 2018 show), we saw old friends and met many new ones. We had a blast, and are already looking forward to next year's show. Our booth featured a Kings Sprayers 100 Gallon 4-Wheel Sprayer. Plus, we gave away some of our "Eat. Spray. Love" tee-shirts.
Missed us at the show? Post your comments or questions in the box below and we'll be sure to get right back to you. Or, use the live chat feature on our website to connect with a customer service technician.