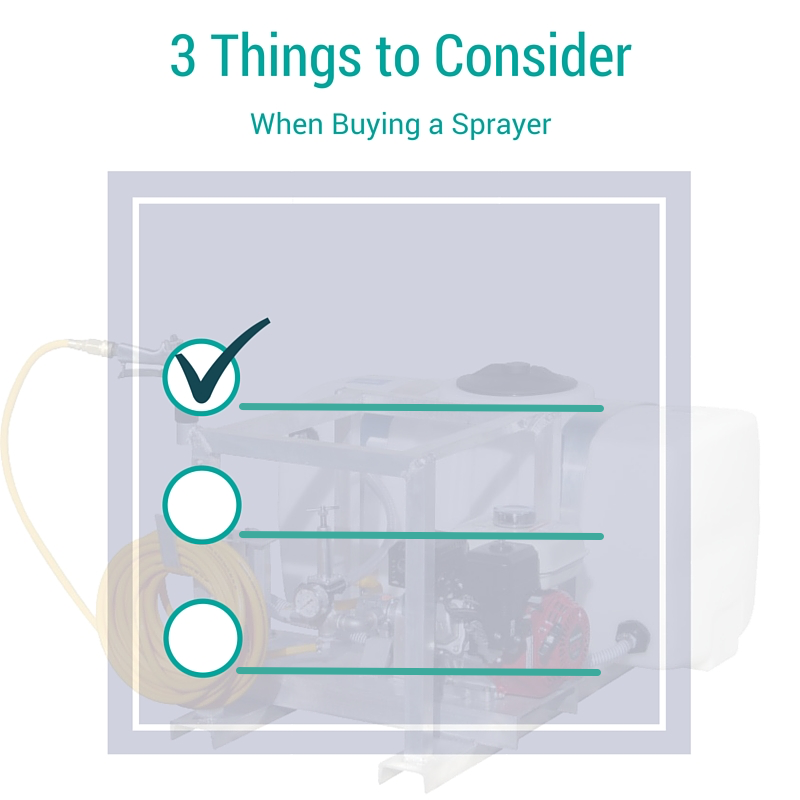 Buying new equipment is always an important part of any business. However, making big purchases, like spray equipment, can also be stressful.  After all, you want to choose wisely where you'll spend your hard-earned money. You want to make sure that you are buying high quality and reliable spray equipment that will not only improve your application, but hold its value long-term.
To take some of the guesswork out of the puchasing process, we've listed the top 3 things to consider when buying a sprayer.
1.) Ask for Advice
Whether you are operating the sprayer yourself, or buying it for your technicians, always make sure to ask for advice. Make a list of things you absolutely need in your equipment. Ask other technicians also working with the equipment what they like (or don't) about the current sprayer and what they think could improve. Don't forget to always ask potential vendors what recommendations they have based on your type of application. Make sure to gather as much information as possible to identify your must-have requirements. 
2.) Look Beyond the Price Tag
Choosing quality over price should be a given, but we all love a good deal, so price is always a big consideration. Buyer beware, sometimes a seemingly great deal ends up not being a deal at all when the equipment quickly breaks down or doesn't perform as expected. It is important to keep in mind that purchasing a new sprayer is an investment, and you want to make sure your investment will increase your business value.
3.) Factor in Support
Consider if parts and accessories for your chosen sprayer are readily available in case it needs to be serviced or repaired. We have a huge inventory of sprayer parts and offer same-day shipping on many of our items because we understand how important it is to have the parts you need FAST, in order to minimize downtime. Don't forget to pay attention to the customer support you receive while inquiring about a product. Are they friendly and knowledgeable? Can you call back with questions after the purchase? We pride ourselves on having the best Customer Service Technicians in the industry, available by phone, email and even live chat. If you need assistance before, during or after your purchase, we're here to help.
Your due diligence will ensure that you choose the right sprayer for your needs!
Share your most recent spray equipment purchase with us. What other things would you consider? Let us know in the comments below.